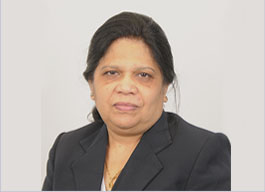 Priti Joshi is renowned astrologer with over 25 years of experience. Originating from an astrologers family she is a well-known Vedic astrology expert in USA. She also possesses equal expertise in Vedic Numerology and Lal Kitab. As a habitant of United States of America she is constantly providing her knowledge and expertise through a unique approach to enhance people's life. Her client spectrum has no religious and language bar. From Hindu to Christian and English to French, she helps who ever come to her seeking solution for any problem. She has a deep faith in Shridi Sai Baba, which she believes to be her source of guidance to her reading and advice. You will be truly amazed at her gifted reading and prediction power.

According to her, peaceful living and progression is all what a person dream to have throughout life. But in real life no one can have a life without difficulties and hard times. But Vedic Astrology and Numerology is such a powerful tool that can help people to understand their future odds and can take required actions to prevent the downfall as much possible.

As an astrology expert she provides services in all the different aspects and branches of Vedic Astrology and Vedic Numerology. Starting from Horoscope report to carrier astrology she has a solution independent of your age, gender and situation.