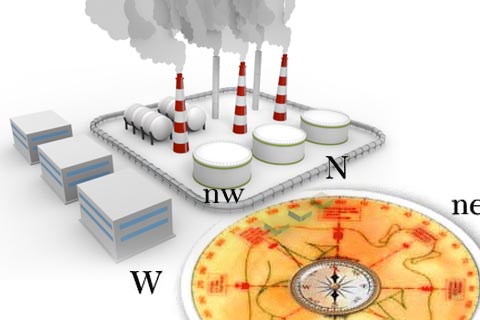 The balance between the positive and negative forces is reflected through the plot. The construction of a structure causes imbalance between these two forces. By using the principles of Vaastu Shastra, one can obtain equilibrium between these forces and ensure a positive atmosphere within the structure. There are various tests devised by Vaastu experts who one can perform, if permitted, before purchasing a plot. Like a pit with a length, depth and width of 45cm each has to be dug and filled with water. If after 3 minutes the water is absorbed, the land is of low grade, if water is apt 30cm then it is of medium grade. The land has positive energy if the water flows in a clockwise direction and has negative energy if it flows in an anticlockwise direction.

According to Vaastu expert, colors of the soil also have an effect on individuals. White soil is recommended for musicians, preachers, artists, writers, consultants, teachers etc. whereas red soil is recommended for administrators, government officials etc. Greenish or yellowish soil is recommended for individuals connected with commerce, banking and finance.

There are many factors to be considered before constructing a building or your house on a plot of land. Some of the factors which are important from the Vastu shastra aspect of view for a plot are - From whom you buy the plot, direction of the plot, environment or sorrounding of the plot, obstruction in front of the main gate of the plot etc.