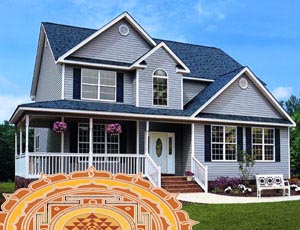 The residence of an individual is a mark of his own identity.It is the place of relaxation as well as consolation for him as such he tries his best to make it as comfortable as possible. Vaastu Shastra helps a lot in accomplishing this aim of an individual. By the correct arrangements of rooms and spaces in a residence, Residential Vaastu brings about a harmonious integration between the inhabitants and the various forms of energies.In Residential Vaastu, the various principles of Vaastu are applied in order to create a residence where the inhabitants can experience prosperity, comfort, happiness and good health.The main aim of a Vaastu designer while constructing a residence is to design such that the inhabitants prosper and live a stress-free life.

The three most important principles of design for a Vaastu designer are Bhogadyam, Suksha Darsham and Ramya and all these aspects must be satisfied while designing a building. The building designed with the numerical calculations of Ayadi and the principles of Vaastu affects the inhabitants physically, spiritually as well as emotionally such that all these aspects are harmonized and activated, but a complete utopia is never promised by Vaastu Shastra.Vaastu Shastra can also be used for making corrections in the architecture of a residence without demolishing the structure.
While designing the Vastu for residence, we keepthe following points in mind:
The cardinal directions and their establishments.
Creation of Pada Vinyasam or center.
Ayadi Poruttam.
The proportions, rhythms and philosophy of design.
The surrounding structure/ structures and the environment around the site.
The location of facilities.
The nature and lifestyle of the inhabitant/inhabitants.
Avoiding deconstruction and demolition of properties.
The doors play a very important role in a residence since it links the inner self of the inhabitant with his activity- based identity.Colors also play a significant role in a residence and each color has its own effects upon the inhabitants.In some cases, some mystic numbers are also used to induce a positive vibration among the inhabitants of the house.According to Vaastu Shastra ,apart from the South-East direction all other directions are preferable for a bedroom.West is the perfect direction to construct a children's room and South- East is an ideal location for a kitchen. However the designs vary since it largely depends on the layout of the particular place.

The layout of different places differs from each other. For example, the layout of Navi Mumbai is different from that of Chennai and in the same way the layout of different countries is different from the other.Thus we can conclude that the application of Vaastu for residence in USA will be different from that of India or any other foreign land.Apart from the architecture of the residences in USA, the lifestyle of the people residing there and its environment is completely different as such the Vaastu for residence in USA will be totally different from that of India or any other foreign country.However the aim of Vaastu